This beautiful display is the first to greet visitors.  Though once plentiful in Montana, the swift fox became endangered and was reintroduced into Alberta and Saskatchewan in the 1980s.  The foxes began to migrate into Montana in the early 1990s, and the two in this display were trapped in northern Blaine County in 1994.
This diorama carefully blends an 88′ mural with habitat, sounds and animals to create an incredibly lifelike experience for museum visitors.  Animals and scenery are so close, visitors feel they are actually in the natural setting.  The exhibit incorporates mountain peaks, forest, alpine meadows, foothills, and prairie and showcases deer, mountain goats, bighorn sheep, and much, much more.
The Foothills Exhibit compliments the Peaks to Plains adjacent to it. Featured in the diorama are a bull, cow, and calf elk, along with an old, bird-filled cottonwood tree. A prairie dog town is painted into the mural, and viewers get an up close glimpse of a burrow through a cutout display.
This spectacular diorama was the first to be completed in the museum and remains a favorite of many museum visitors.  It features a 25′ cliff with 4 fully mounted buffalo, as well as a golden eagle in its nest.  Viewers experience the sights and sounds of a Native American buffalo hunt prior to the advent of the horse.
This western Montana scene depicts a chance encounter between a grizzly bear and a moose.  This exhibit also features many birds as well as a mink, otter, wolverine, and many more animals.
This breathtaking exhibit is a masterpiece set in the foothills of the Bears Paw Mountains south of Chinook.  It showcases a spring scene demonstrating what happens to a stream when beavers build a dam and features an actual dam and lodge complete with a mother beaver and 4 kits.  This peaceful exhibit also challenges viewers to notice minute details, as there are many insects and small creatures throughout this incredibly beautiful display.
This exhibit transports visitors to a winter night in the Montana woods. A beautiful aurora borealis is captured perfectly in the mural. The diorama creatively spotlights active night animals including a wolf, a bobcat, owls, and more.  
About the Designers... Acorn Exhibits, Inc.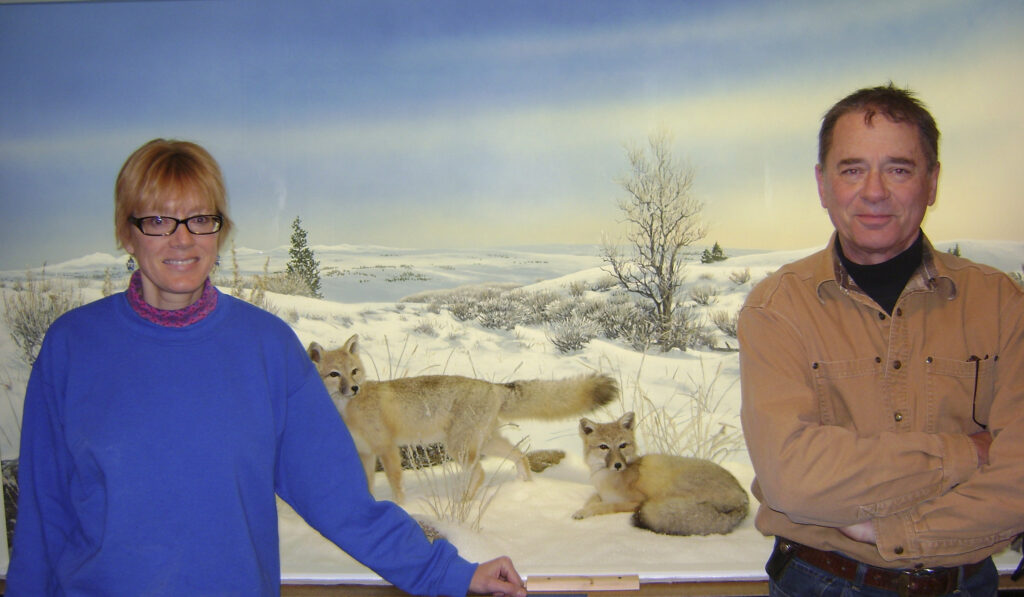 Kurt Wohnsen and Elizabeth Marshall
The exhibits at the Blaine County Wildlife Museum were designed and built by Acorn Exhibits, Inc. The animal taxidermy mounts were provided by the BCWM, and the murals were painted by professional scenic artists as designed and directed by Acorn Exhibits, Inc.
Acorn Exhibits, Inc. is comprised of artists Kurt Wohnsen and Elizabeth Marshall.  They are based in St. Paul, Minnesota with an additional studio in New Mexico.  Kurt and Liz started the company in 1996 after years of employment at exhibit firms and museums including the Denver Museum of Natural History and the Science Museum of Minnesota.